To be honest, I'm not sure what all happened on campus during March. I was blessed to travel throughout Indiana, Michigan, and Illinois to various congregations who volunteered for our Phone for Children Campaign.
One of the coolest things about the Phone Campaign is the support we receive from home. ALL of the kids made cards or wrote notes for us to open each night, and the staff sent small g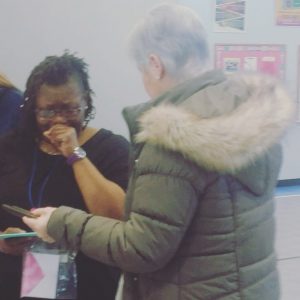 ifts. It is so awesome to be part of a team who is supportive and encouraging during the stressful, yet AWESOME, Phone Campaign.
We said good-bye to Ms. Fathe Davis, who was our History teacher. She accepted a new teaching position in Illinois, where she lives and had been commuting for 5 years. We appreciate the years of service she gave and her love and passion for teaching. We are thankful for Fred Lucas, housedad in Home 2, for stepping up and helping substitute at the school. However, we are looking for a History and a Math teacher. If you know of someone, please send them our way!
Our contracted licensed therapist is doing an awesome job and is filling the position perfectly for us. We are so grateful for her, but again, we know this is a temporary fix. We need to find a licensed clinical therapist as soon as possible. Know anyone?
The kids are doing well. They just enjoyed a nice Spring Break, an opportunity for some downtime. We still have two girls' homes, one boys' home, and a relief home. The kids are handling the transitions of staff quite well, but we want to offer stability as much as possible for them. The sooner we find the necessary staff, the better.
We will have two graduates next month. Tony, the young man, who has been able to attend public school, will graduate at the end of the month. He's looking forward to attending college in Fort Wayne, Indiana, and is currently planning to study psychology. Courtney will graduate from Shults-Lewis High School and plans to study cosmetology after she leaves us. Pray for both of them as they finish their semesters and as they head off to the next phase of their lives.
Happy Spring!
For the children,
Beth Frump, Director of Development
/wp-content/uploads/shults-lewish-300x63.png
0
0
Beth Frump
/wp-content/uploads/shults-lewish-300x63.png
Beth Frump
2019-04-04 18:09:09
2019-04-04 18:09:09
April Campus Update