Have you "Answered the Call" for the 2018 Phone Campaign?  If so, THANK YOU!!!!  If not, you can call us (800.462.0513), e-mail me (bethfrump@shultslewis.org), text, SnapChat, Facebook Messenger, or send a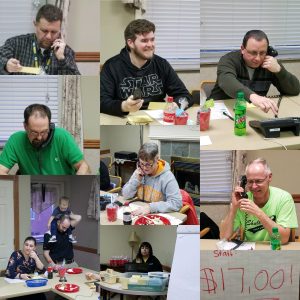 carrier pigeon with your pledge.  It is my goal that families will honor our 62 years of serving children & families with a gift of $62.  That's just $5.17 a month, or you can give  however it best fits your budget ANYTIME this year!  Again, if you have already pledged, I am so very grateful for your partnership in this ministry.  Thank you!
February, we focused on Emotional Management with the kids.  The thought behind Emotional Management is that it is perfectly fine to have emotions and feelings, but it is how you act upon those emotions that matter.  For example, you can be angry, but need to stay in control while you are angry.  With Valentine's Day being in the midst of Emotions month, we had our Progressive Dinner with the back-drop being the emotion of LOVE.  We had an awesome meal—my group were the "lucky" ones who went in order, and NO I didn't plan the dinner, I just lucked out.  After the three courses, we landed together at the Caf-A-Gym-A-Torium to share dessert and Jim Powell shared a message with the kids based on 1st Corinthians 13.
As Jim Powell finishes his days as Executive Director, the Board of Trustees has named Peter Bumpass as an Interim Director.  Peter has been a part of our Board for about 30 y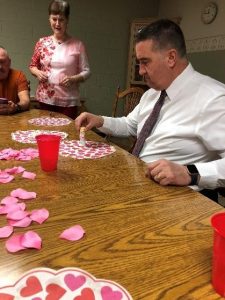 ears and has been a part of this ministry for even longer.  He has agreed to step in while the Board makes the final prayerful decision regarding the next Executive Director.  While we are sad to see the Powells go, we know that Peter will be an asset in this transition.  Again, if you have any questions regarding this transition, feel free to contact me anytime.
We have placed two new residents this month—a girl and a boy.  Please pray for them as they begin their journey with us.  I am so thankful for you and your role in the positive changes in their lives!
Thank you for being a part of my community!!
For the children,
Beth Frump
Beth Frump, Director of Development
Faith.  Family.  Future
/wp-content/uploads/shults-lewish-300x63.png
0
0
Lissa Baldwin
/wp-content/uploads/shults-lewish-300x63.png
Lissa Baldwin
2018-03-02 20:00:43
2018-03-02 20:15:59
March Campus Update