Day of Prayer
&

Giving is July 29, 2018
Day of Prayer…is our opportunity to unite as 20,000 individuals and over 500 congregations who love and support Shults-Lewis.  What an awesome opportunity to PRAISE HIM for the blessings He continues to provide and to PETITION HIM for specific requests on behalf of the agency, staff, and kids!  A day that we, though miles apart, can pray together for our ministry!
…and Giving… is an opportunity for us, as 20,000 individuals and 500 congregations to fund specific projects that are not in our regular operating budget.  We want to knock out some of our BIG items that simply need to be purchased.  First thing we need to purchase is a new COMMODITY VAN.  "Clifford the Big Red Van" has done very well for the last decade, as he has traveled all over the Midwest to pick up the awesome things that you all donate for the children.  However, in the last 2 years, the van has spent more time at the shop getting repairs than in our parking lot and it is time to replace it.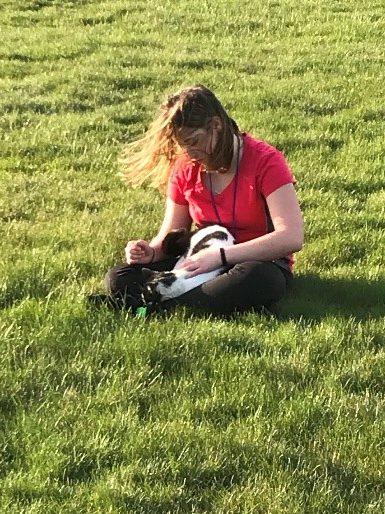 The second big item is paving our PARKING LOT.  If you have been on campus, you know what I'm talking about.  The main parking lot is busted up and it is actually difficult to walk across because of the holes and chunks of pavement that are loose.
Those two items alone could run us over $100,000.  We'd love to be able to update old windows (another $20,000), get new furniture for some homes ($3,000), and even replace a couple of the agency vehicles used to take kids to doctors and appointments ($18,000-$20,000 each), but we are going to tackle the list from "Need NOW" to "Need Soon".
The financial goal of Day of Prayer and Giving is $85,000. While I may be limited in my expectations, God is much bigger than my goals.  As you provide your "extraordinary" gifts towards Day of Prayer & Giving, we'll purchase as much as we can on our lists, even recognizing that if we are able to knock everything off our list, the overage will go towards the daily care of the kids.
Getting Involved with Day of Prayer and Giving for Shults-Lewis…
It is my hope that the conversations have already begun in your home and in your congregations about the Day of Prayer and Giving.   If not, now is the time to get started!
What is Day of Prayer and Giving?
We have chosen a specific 5th Sunday for everyone who knows of Shults-Lewis to spend time specifically praying for Shults-Lewis, and for specific requests submitted by    the children and staff.
It is also a time for individuals and congregations to give an "out of the ordinary" financial gift.  We have a goal of $85,000, but we have an awesome God who provides for our needs through amazing donors!
But our congregation gives monthly…
We truly appreciate every dollar that each donor and congregation donates on a regular basis.  We count on each of those to meet our daily needs for the children.
The financial contributions from the Day of Prayer and Giving will be used to do some non-budgeted, but necessary items.
 Our congregation already gives our fifth Sunday contribution to Shults-Lewis…
              Thank you!!!  Please announce to the congregation that their gifts on this particular Sunday will be used for the purpose of purchasing some bigger items needed at Shults-Lewis.  Ask them if they would be willing to stretch themselves a little more on July 29th.
How do we participate in Day of Prayer…?
Every leadership will need to decide what works best in your congregation.  You could make copies of the prayer requests for each member of the congregation.  You could cut up the list and divide between different families or even different Bible classes.  Get the kids involved with praying for their peers.
It is just our request that you pray.  How you conquer the list is up to you.
…and Giving?
Be sure to include a note or indicate on the checks that the financial donation is specifically for Day of Prayer and Giving.