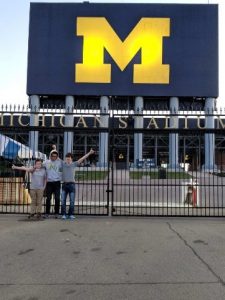 Taking an Ohio State fan to "The Big House" at U of M. That's what Thanksgiving is all about.  A couple of our boys went "home" to Michigan with Joel & Kerri (Houseparents in Home 2) and they made sure to take the time to show the boys the University of Michigan. How awesome, though. Here we have a houseparenting family who are on their "off" time. They are able to spend the holiday, with no "work" responsibilities. But rather, they take a couple of boys who didn't have a place to go for Thanksgiving to their family Thanksgiving. And this isn't the first time that's ever been done!
Sitting around the Powells' Thanksgiving table was a boy who "graduated" our program several years ago who only has Shults-Lewis as his family. They also hosted a houseparenting couple who, because of the visits of the kids, had an empty home at Thanksgiving dinner time.
The "work" of Shults-Lewis doesn't just happen from 8-4:30 or even just Monday-Friday. The staff, your missionaries, don't clock in and out. They recognize that this is their mission field and sometimes it means you open your home during holidays, forfeiting "off" time, or sit at basketball games on Friday nights, or take a boy to Target on a Saturday morning.
I am so blessed to be a part of a mission work where people give of themselves daily to ensure that kids and their families are taken care of. I am blessed to work alongside people who "respond with God's love" daily to children and families.
And as you gather with your friends and families this holiday season, know that there is a campus of children and staff who are so very thankful for you. You are the reason that we are able to continue to serve. Thank you for being a part of our community and allowing us to work with the most amazing, precious children of God.
May you be blessed as you have blessed us!
For the kids,
Beth Frump, Director of Development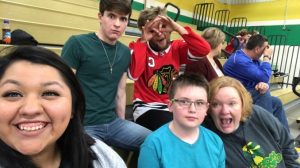 Faith. Family. Future.
/wp-content/uploads/shults-lewish-300x63.png
0
0
Beth Frump
/wp-content/uploads/shults-lewish-300x63.png
Beth Frump
2017-12-01 01:32:35
2017-12-01 01:32:35
December Campus Update