November brought our first snow.  We measured 6 inches here on campus which is a solid snow for the first one of the year.  The kids played outside, making snowmen and forts while we waited for a visiting group to safely arrive.  The group braved the snow to bring Thanksgiving turkeys and goodies for the kids.  They had hoped to help winterize the gardens with us, but the snow came and we had to settle on playing games in the gym.  Fun!
On Veterans Day,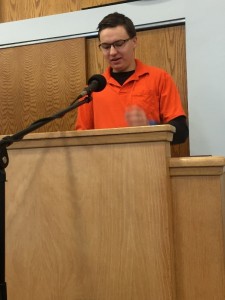 our kids put on a wonderful program.  What an awesome experience for them.  I was so proud of all of them!
We also had our Annual Geography Bee last month.  The kids are given questions from the National Geography Bee and they did an awesome job.  They worked hard and it showed!
For the kids who had earned the highest points last semester, Mrs. Terhune & I took them bowling.  The boys and I beat the girls.  And by beating them, I mean we had just a couple less gutter balls than they did.   And in the midst of all of this fun, the kids have even managed to get some school work done, too.
As the holidays approach, I do ask that you pray for our kids.  The holidays are difficult for many of them, so please just say an extra prayer for them.  Also, an extra prayer for the counselors and the houseparents, who help them work through it all, would be appreciated.
I am so thankful for your prayers and your generosity.  Thank you for being a part of this ministry with us.
Have a wonderful holiday season and a happy New Year!
For the children,
Beth Frump

E-mail:   BethFrump@ShultsLewis.org
Find us on Facebook & Twitter @ShultsLewis
/wp-content/uploads/shults-lewish-300x63.png
0
0
Beth Frump
/wp-content/uploads/shults-lewish-300x63.png
Beth Frump
2015-12-02 15:06:39
2015-12-02 15:06:39
December Campus Update