How crazy busy was your December?  If you are like me, it can fly so quickly that I miss it.  I have to be intentional about Being Present, to not rush past the laughter of a 3-year-old as he beat my dad in Hungry, Hungry Hippos AGAIN, to not rush watching a Christmas movie with my niece & her husband (I feel like just yesterday she was the 3-year-old playing the games).  Be Present.  We will never get this time back and I want to make sure I don't miss it.
Our kids enjoyed a Saturday at the Circus, thanks to a Board Member purchasing the tickets.  They thoroughly enjoyed the day, as did the staff.  Be Present.  Watch the kids squirm as they held a huge snake (yikes!).  Laugh with the kids as they show off their blue tongues from slushies and cotton candy.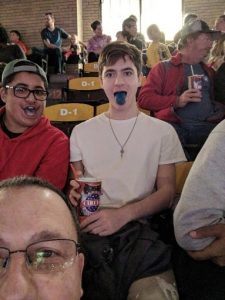 Be Present as our kids presented their 4H projects for this semester.  Be Present as they showed their goats, gave their speeches, and shared their creative writing stories.
Several staff members enjoyed the South County Love Your Neighbor Christmas dinner.  Be Present in our community.  We enjoyed an amazing dinner together, laughing together, being entertained by various singers and groups, all while spending time with people from our community.
Christmas parties!  One of the best days of the year is the Staff Christmas Party.  It is the one day where we are able to gather (almost ALL of us) for a lunch.  Be Present as we play Mean Santa and watch the gifts exchange as one person steals another's new found treasure.   Be Present as we simply enjoy time together, no kids, no worries, no stresses, just us.  Together.
The Kids' Christmas Party included a game of Bunco and a visit from Santa!  Be Present as the kids receive their gifts from Santa.  Be Present as the kids see all the amazing gifts and stockings that congregations provided for them.
Then there are the simple quiet days during break.  Be Present as they share the plot to the new book they are reading.  Be present and play another round of cards.  Be Present and shoot some basketball or play some ping-pong.
Thank you for supporting this ministry and allowing us the ability to Be Present in the lives of these precious children.
For the kids,
 Beth Frump, Director of Development
Faith. Family. Future.
/wp-content/uploads/shults-lewish-300x63.png
0
0
Beth Frump
/wp-content/uploads/shults-lewish-300x63.png
Beth Frump
2018-01-09 15:22:36
2018-01-09 15:22:36
January Campus Update