Over $214,000 pledged during the Phone for Children Campaign!  Thank you!  Thank you for your prayers and your continued support of this ministry.
For me, M

arch is always a blur of activity and is over so quickly.  Each day is filled with time with different congregations who volunteer for the Phone Campaign, with phone calls with donors, and with face-to-face conversations with you.  While it is a difficult month as we try to raise the necessary funds through phone calls, it always returns ten-fold in blessings—not only in the funds raised, but in the encouragement from you.  THANK YOU!
While Development was out blazing the trail, campus was still full of activity.  The Park Forest AWSL hosted their Annual Chili Supper for Shults-Lewis, raising over $2,000 for the kids!  Our kids and staff had an awesome time enjoying the amazing food and even better company!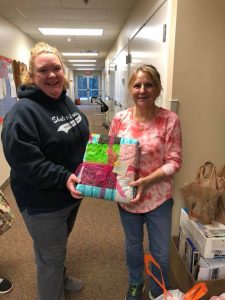 The awesome ladies of Royal Oak and Waterford worked together, creating quilts for each of our kids.  The amount of love and prayer that went in with each stitch was felt as the kids each received their own quilt.
Our kids were also blessed by Easter Baskets from a local Boy Scout Pack as well as amazing goodies from the Royal Oak congregation, and a special young lady from the Waterford congregation!  I am so thankful for each of you and how you use your talents and gifts to bless our kids!
Thank you for being a part of this ministry, for giving hope to children and families.  May you be blessed as you have blessed us!
For the children,
Beth Frump
Beth Frump, Director of Development
Faith. Family. Future.
/wp-content/uploads/shults-lewish-300x63.png
0
0
Lissa Baldwin
/wp-content/uploads/shults-lewish-300x63.png
Lissa Baldwin
2018-04-03 20:11:43
2018-04-03 20:11:43
April Campus Update