Annual Day was incredible!!!  The morning weather started a little rough, but by noon, we had a beautiful fall day for our Open House!  I am so thankful for everyone who donated items, who ran booths, who came and spent the day with us…everyone.  It was a perfect day.
I hope that you are already marking your calendar and your congregation's calendar for next year's Annual Day—Saturday, September 17, 2016!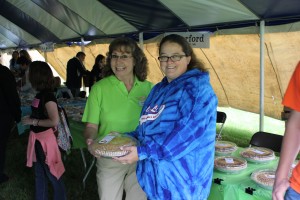 We enjoyed the company of the Sojourners for the month of September.  We always enjoy spending time with them as they help us prepare campus for Annual Day.  The
amount of wisdom in these amazing servants is awe inspiring.  The kids enjoyed sitting with them and listening to their stories.  And so did I!!  Oh that we would all learn from their example.
In September, we had some staff changes.  Angela Robertson finished her Master's degree and has taken on the role of Program Supervisor, leaving her former position of Intake Coordinator.  Carren Powell, who has been a housemom here and most recently Administrative Assistant, moved into that vacant Intake Coordinator position.  And then we added a new staff member, Liz Moon.  She has taken the position of Administrative Assistant.  Hers is the happy voice you will hear when you call.  Her passion for ministry and helping children has made her a perfect fit for the work here!
I ask you to pray daily for more staff members.  As we look toward the future, we have several employees who will be retiring over the next few years.  And more immediately, we are in need of houseparents.  We want to open our homes to serve as many children as possible!  Please PRAY for us and SHARE our need for staff with others.  Our next houseparenting family may be sitting next to you on Sunday morning.
Thank you for loving our kids and our Father.
For the children,
Beth Frump, Development Director
Faith. Family. Future.
/wp-content/uploads/shults-lewish-300x63.png
0
0
Beth Frump
/wp-content/uploads/shults-lewish-300x63.png
Beth Frump
2015-10-01 15:19:47
2015-10-01 15:22:10
October Campus Update