I love Annual Day.  I love seeing so many people from the Great Lake states come together for a day of fellowship for the kids!  This year was no different.  I had such a great time visiting with friends and making new ones.  I was privileged to give a tour to a group from Danville, IL who had never been on campus before.  And on top of that, my Aunt from Texas flew into Indy and she and one of my aunts from Indy, came up for the day.  According to my dad it was to see his "Frump Pantry".  (Almost four years later, he still calls it his pantry.)  I say they came to see me.  But really, I think they enjoyed the BBQ and the pies the most.
Mark your calendar now for Saturday, September 16, 2017.  Really, do it.  It was the first thing I put on my 2017 calendar.
I've been very honored to spend several Saturdays at Ladies' Days in the region.  One of which was in Goshen, Indiana, where one of former employees, Delores Nelson, was the featured speaker.  We were able to pile the girls into our NEW VAN and go be a part of that day.  It was an awesome day for our girls.  Huge thanks to the Goshen women for that aw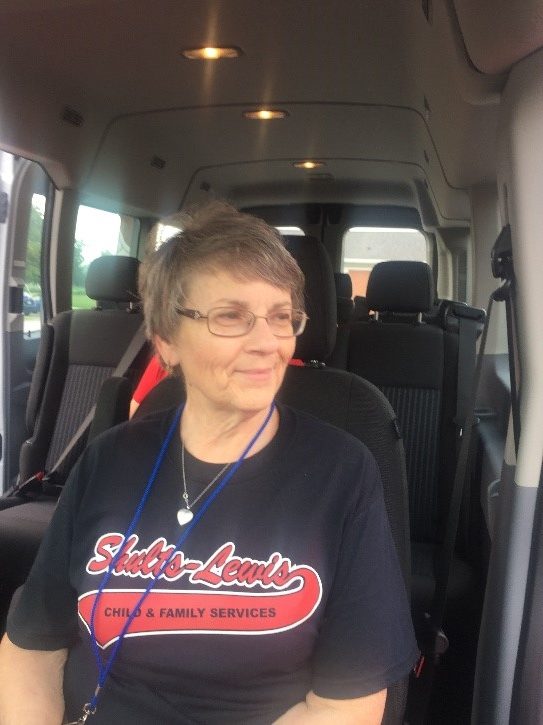 esome day…and to all the other women who put together amazing Ladies' Days!
On Annual Day we highlighted our new van, "AC" (Albino Clifford as our red commodity van is named Clifford, the big red van).  It is a Ford Transit passenger van.  We are so thankful for all the congregations and individuals who were a part of Day of Prayer & Giving 2016.  We are so excited for our new van!
I am truly grateful for your prayers and dedication to this ministry.
Thank you for loving our God and serving His children,
Beth Frump
Beth Frump, Director of Development,
E-mail:   BethFrump@ShultsLewis.org
Find us on Facebook & Twitter @ShultsLewis
/wp-content/uploads/shults-lewish-300x63.png
0
0
Beth Frump
/wp-content/uploads/shults-lewish-300x63.png
Beth Frump
2016-10-20 16:28:32
2016-10-20 16:28:41
October Campus Update