In February, we had a Shults-Lewis first.  A local organization hosted a benefit Valentine's Dinner in our honor.  We all had a wonderful time.  The meal was amazing, the entertainment (which included our very own English teacher, Mrs. Chowning, with Great Lake Sound Chorus) was spot on, and the photo booth was a blast.  The night was perfect.
Our teachers attended a conference in February.  To keep the students engaged and learning, the speaker emphasized that teachers need to ensure that the students are physically active each day.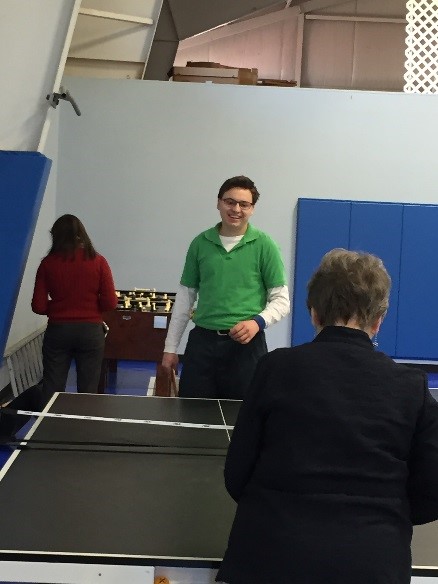 During the 10:00 am break every day, Mrs. Herren is taking the kids into the gym to walk, play basketball/volleyball, anything to stay active for 15 minutes.   It didn't take long before the word spread and now most all of the staff are joining in as well.  It is incredible to look around the gym and seeing Jim Powell, Executive Director, shooting hoops with some kids, Mrs. Terhune, Principal, playing Ping Pong, Jen Zandstra, Housemom, walking laps with some of the girls…it has become a wonderful way for us to spend time together.
Do you know our need for houseparents?  We are nearing max capacity for kids.  Last week we received 14 calls of families needing help.  Because of our need for staff, we are putting people on a waiting list. It breaks my heart!  Now you know, we need houseparents.
Let me say it again.  We have a waiting list for kids because we need staff.  How can you help us with that need?
Today Jim Powell shared a devo thought on serving, "It's a difficult step to go from KNOWING to SERVING".  One of the best ways you can serve Shults-Lewis is helping us find houseparents.  Pray for this search and help pass along the message.
Or maybe it is you who is willing to serve God as a part of the ministry of Shults-Lewis.  Come serve with us.
Thank you for loving our God and serving His children!
For the children,
Beth Frump
Beth Frump, Director of Development,
E-mail:   BethFrump@ShultsLewis.org
Find us on Facebook & Twitter @ShultsLewis
Faith. Family. Future.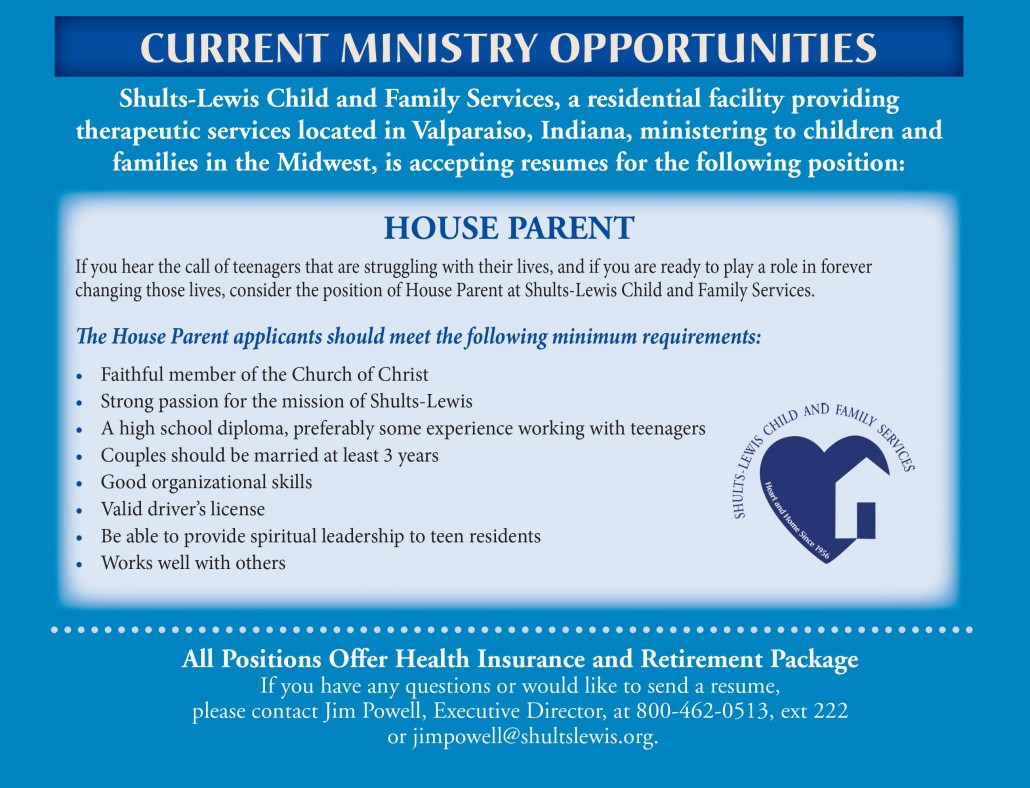 /wp-content/uploads/shults-lewish-300x63.png
0
0
Beth Frump
/wp-content/uploads/shults-lewish-300x63.png
Beth Frump
2016-03-01 16:15:25
2016-03-01 16:15:34
March Campus Update