I just finished my "module" of training with our NEW HOUSEPARENTS, Kim & Fred Lucas.  What an awesome couple!  I can't wait for you to meet them!  They come to us from Arkansas where they were houseparents at a Christian children's home.  They wanted to move back to Indiana to be closer to their kids and grandkids.  They arrived mid-July and they truly just fit in.  They are an awesome blessing to our houseparenting staff!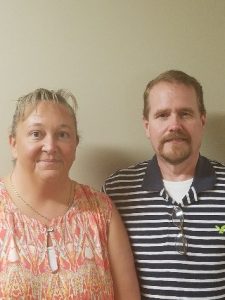 We are still in need of houseparents as Derric & Aley are leaving us this month.  As I'm sure you are aware, Derric has been accepted into preaching school.  We are excited for their future, but they will be dearly missed!
Besides the changes in staff, July was JAM PACKED with awesome activities.  We started the month with a 4th of July party at our Executive Director's home.  The kids had a great time playing baseball and enjoyed the fireworks show that Glenn put together for them.
We had a brand new group from Northeast (Detroit) who gave a day of service to us and enjoyed some time with our kids and staff.
Plymouth came mid-month.  And while they worked hard and got so many things accomplished for the campus, the lasting memory of the trip will be the 1st No Fun Color Run.  Don't let the name deceive you.  It was one of the most fun days we have ever had.  All over our campus there were "obstacles" for the kids to do and as they successfully completed the tasks, they "earned their colors".  We ended that night with a cook-out and a Bean Bag Toss Tournament.  What an awesome day.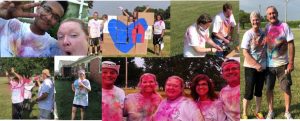 Literally just hours after Plymouth left campus, a group from Florissant, MO, arrived.  They brought 35 people!  THIRTY-FIVE!  That's is the LARGEST group we have ever had on campus.  When they arrived, I told them that we had some challenges with having that many people visiting campus, but this group is amazing.  They do such a great job of breaking into smaller chaperone-led teams and tackling projects.  They are hard-working and do such an awesome job of being patient and considerate.  They have brought smaller groups to campus over the years, and they always just do an incredible job working with us.
The last group of July was Park Forest.  They joined us on Day of Prayer & Giving at church and joined us in prayer for the agency and for the kids.  What an awesome opportunity.  They also spent the afternoon serving by doing some deep cleaning, sorting in the pantry, and even some office work for us.  Park Forest is located less than an hour away and we are truly blessed to work with them throughout the year with various projects.  We are blessed to have them so close!
It is so refueling and energizing to spend time with groups and with you.  I cannot wait to see you on Annual Day, Saturday, September 15th!  Come spend the day with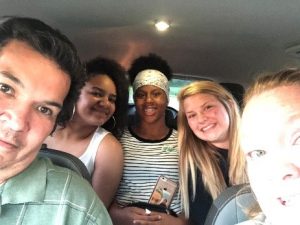 us.  Let me introduce you to our new houseparents.  Come eat some amazing pie with me and catch me up on how things are going in your congregation.
July was a busy, busy month.  And August is looking to be the same….and I LOVE IT!
See you soon!
For the children,
Beth Frump,
Beth Frump, Director of Development
/wp-content/uploads/shults-lewish-300x63.png
0
0
Kiana Baldwin
/wp-content/uploads/shults-lewish-300x63.png
Kiana Baldwin
2018-08-02 14:51:16
2018-08-02 14:51:16
August Campus Update