All in a day's work?!?!?! In April, several of the administration team were able to attend the CCFSA (Christian Child & Family Services Association) Conference in Searcy, Arkansas. What an awesome opportunity to learn more about child care and get the proverbial "shot in the arm" of renewal from fellowshipping with other Christian agencies. It is also an opportunity to spend time with former employees who have moved to other agencies. And I will admit that there was a lot of fun and laughter throughout the days away.
But as usual, it was wonderful to get back home to the kids. As you have already seen in the Telegram, we held our annual Spelling Bee. As someone who constantly relies on spell check and my wonderful proofreading mom, I sit in awe as our kids spelled words such as "babushka" and "superfluous". It took over an hour and pulling out an extra list of words to finally crown Hannah the winner!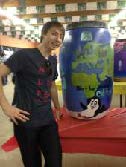 The kids participated in a community Earth Day activity. The community had rain barrels that schools could buy and paint. Mrs. Chowning, our English teacher, worked with the kids to sand, design, and paint the rain barrel. I hope you come to Annual Day on Saturday, September 19th to see it and bid on it in our auction!
You should've received your information regarding our Day of Prayer and Giving for Shults-Lewis on May 31st. I am really counting on you to promote this in all the congregations. If you need more information, please let me know.
It is amazing to watch the changes in the lives of children and their families. Thank you for being a part of this ministry!
/wp-content/uploads/shults-lewish-300x63.png
0
0
Beth Frump
/wp-content/uploads/shults-lewish-300x63.png
Beth Frump
2015-05-06 20:29:57
2015-05-06 20:31:06
May Campus Update
I stared at the blank screen for a long time before I finally gave up and asked for help. I asked Kiana, my assistant, "I'm working on the Helping Hands update. What exactly happened on campus in March?" She laughed and said, "Ms. Beth, Phone Campaign!!! We weren't here in March." I'm so glad she said that because I was starting to worry about my memory as I was drawing a complete blank on campus activities.
The Phone Campaign is the entire world of Development in March. I am so thankful for all the prayers you have offered up for this campaign and for the financial situation of Shults-Lewis. The Phone Campaign was a great success! THANK YOU!!!
As I checked around with the houseparents and teachers, apparently I missed quite a bit of campus activities
. Mrs. Terhune had an awesome PI Day celebration. (And by the way, she did not save any for the traveling Development Department!)
We had a college group from Arkansas visit. I blamed them for the four inches of snow that fell that day. They spent their day preparing Change Cans for mailing and their evening making Phone Calls for the Phone Campaign. Between the cans and the calls, we were able to fire up the grill and they enjoyed dinner and volleyball with all of the kids.
I am very excited as I look over the summer schedule and see so many more activities and groups visiting. Feel free to come visit anytime!! I'd love to show you around.
As always, be praying for our need of houseparents! We have a waiting list for kids. Pray diligently for mission
minded houseparents to come our way.
And as I know you do, pray for our children. On top of that list, be sure to be praying for Banita and Pandora who will be graduating in May! They have overcome so much in their time with us and we are so excited about God's plans for their futures!
/wp-content/uploads/shults-lewish-300x63.png
0
0
Beth Frump
/wp-content/uploads/shults-lewish-300x63.png
Beth Frump
2015-04-17 19:59:54
2015-04-17 19:59:54
April Campus Update