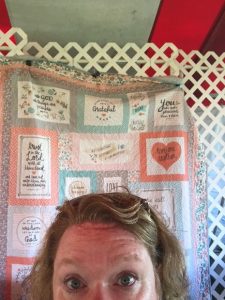 Leading up to the big ANNUAL DAY, we were blessed to have twelve Sojourners spend 3 weeks with us.  The Sojourners always help get our campus ready for Annual Day, and prepare our Gym-Sized Garage Sale.  We appreciate all of their hard work all over campus.  The kids always enjoy the time with the "bonus grandparents".
As I always do, I had an amazing time at Annual Day.  The fellowship was incredible.  The food, oh goodness, the food.  It was SOOO good.  God provided a perfect weather day.  So many congregations came to provide food booths, craft booths, KidZone and games.  I am so thankful to you all for all the effort you put into making Annual Day a success.  The preliminary totals show that we raised nearly $17,000!  You are so awesome!!!  (Mark next year's date down now—Saturday, September 21, 2019)
At the end of September, we were blessed to open another home for girls.  We currently have 2 homes for girls, a home for boys, and a relief home!  We placed two new girls and a new boy.  Pray for them as they transition into our program.
We are excited about our homes and the ability to serve as many kids as possible.  However, we still are in need of a counselor.   We need a therapist with a Master's degree, either licensed in Indiana or willing to get licensed in Indiana.  This role is crucial and we need someone IMMEDIATELY!  This salaried position offers benefits such as insurances and retirement. Please pray for our search and if you know of anyone, please send them our way.
Thank you for all you do for the children!!!

For the children,
Beth Frump
Beth Frump, Director of Development
/wp-content/uploads/shults-lewish-300x63.png
0
0
Kiana Baldwin
/wp-content/uploads/shults-lewish-300x63.png
Kiana Baldwin
2018-10-02 19:59:02
2018-10-02 19:59:47
October Campus Update