AAAAAND THEY'RE OFF!!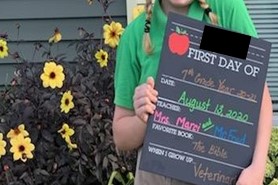 The fall semester is in full swing and the kids are doing VERY well. Home seven's housemom, Kim Lucas, is one of those crafty, fun people who sees something on Pinterest and can recreate it. Kim had fun with the kids on the first day of school taking pictures to help the kids enjoy their first day back. I wish you could see the smile on the face of the girl holding the sign but due to confidentiality purposes, I had to crop out her face and name. 🙂
The kids have adjusted to the pandemic and have settled into their classes. From 7th grade to Senior year, ALL of our students are doing well so far. Mrs. Terhune, our principal, reports that the ICP class (Integrated Chemistry and Physics….yuck!) has all straight As. WOW! We even have one student taking SPANISH! Mrs. O'Keefe and Mr. Lucas, our teaching staff, have been able to work hard with the kids one-on-one and it is paying off. We ask all of you to pray for them in their continued efforts and to pray for more teachers.
Even though I can't enjoy the summer spoils from the cooking class, I have enjoyed seeing the kids feel proud of their accomplishments. Most kids that come here are behind in school or received poor grades. Seeing themselves do well is a HUGE self-esteem booster.
Feel free to send a note of encouragement to the kids. Have YOUR kids make a picture for OUR kids and we can post them throughout the school. You don't have to be crafty like Kim (although we LOVE to see your creations), just be encouraging. WE can't do this without YOU.
Thank you for continuing to take care of our kids, especially throughout this pandemic.

For the kids,
Lissa Baldwin
Development Director
/wp-content/uploads/shults-lewish-300x63.png
0
0
Kiana Baldwin
/wp-content/uploads/shults-lewish-300x63.png
Kiana Baldwin
2020-09-14 16:11:57
2020-09-14 16:12:24
September Campus Update