We like to try to update you all, as much as possible, on what's going on with the kids. But since Beth passed away and COVID hit, we have received a tremendous amount of support and encouragement from all of our donors and those of you who simply continue to pray for us. We have so many people checking in on us that we just wanted to take a second and let you know how the staff is doing since the pandemic has changed our lives and Beth stepped out of our lives.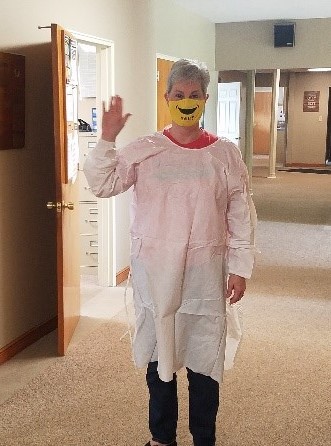 Beth was a busy person but she had a sense of humor that kept a certain energy going throughout campus. So, we have been attempting to fill that void…..sometimes, successfully, sometimes….yeah, not so much.

Whether it's Angela walking about campus in her "COVID SUIT" or me having "coffee with Beth", the laughter is slowly coming back. Without our groups on campus, the maintenance staff has been putting in long hours to give the front of our Admin Building a fresh look. And since my office is on the front side of the building, Glenn has no problem banging on my window to give me a little scare. And Kiana just copes by capturing a picture of how she is feeling each day. 🙂

Cathy and Don, houseparents, have been keeping the kids busy in the garden and creating "art". But the days are usually started off with chapel and a corny joke that Marci finds for our announcements. All of this to say, we are healing. God is watching over us and all of you are praying for us……and we feel it. Thank you for going the extra mile for this agency.
For the kids,
Lissa Baldwin
Development Director
/wp-content/uploads/shults-lewish-300x63.png
0
0
Kiana Baldwin
/wp-content/uploads/shults-lewish-300x63.png
Kiana Baldwin
2020-10-05 13:53:52
2020-10-05 13:53:53
October Campus Update