As I walked out of the office last night, the kids had just finished doing some prep work on the Raised Garden Bed at the school, and were enjoying some time on the swings.  Earlier this week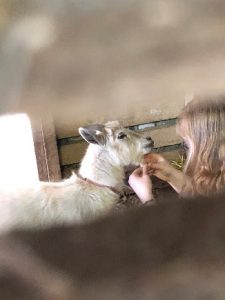 they had spent time down at the Barn, giving our Barn and our goats a Spring Cleaning.  Our 4H Program has been such a blessing for our kids.  They are learning all kinds of skills and responsibilities.  We are so thankful for everyone who was a part of Day of Prayer & Giving in 2017 who made our dream of the 4H program a reality!
Our theme of the month for April was Empowering the Future.  We had a guest speaker who came to talk to the staff and the kids about Human Trafficking.  It's a topic that breaks my heart, but something we want our kids to be very aware of, in hopes that we can help protect them from that evil.  Our hope is to provide them with tools and knowledge that they are able to have a healthy, productive future.
In April, several staff members were able to attend the Network 1:27 (formerly Christian Child & Family Services Association) Conference.  The con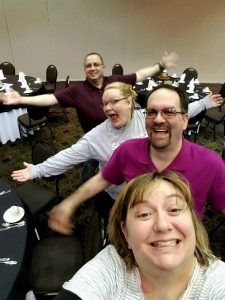 ference is full of educational opportunities for furthering our knowledge in our specific fields, but it also allows us to spend time fellowshipping with the other agencies that provide residential, foster care, and adoption services.  "Lighthouses don't compete" was one of my favorite quotes from the conference, as I love how the conference allows us to brainstorm together and work together as each agency works to serve children and families.  We are truly all in this together, sharing God's light to children and families throughout the country.
We continually receive phone calls from families needing our assistance for their child, and we are limited on how many kids we can help because we need houseparents.  Pray for our need of houseparents and please share our need with others.  We are looking for couples/families who are willing to simply say, "Lord, here I am, send me".
We also have other employment opportunities such as Intake Coordinator and teachers.  If you have interest in any of those positions, please contact us!
Thank you for being a part of our community.  You are making a difference in the lives of children and families!
For the children,
Beth Frump
Beth Frump, Director of Development
Faith. Family. Future.
/wp-content/uploads/shults-lewish-300x63.png
0
0
Lissa Baldwin
/wp-content/uploads/shults-lewish-300x63.png
Lissa Baldwin
2018-05-01 15:31:23
2018-05-01 15:31:23
May Campus Update