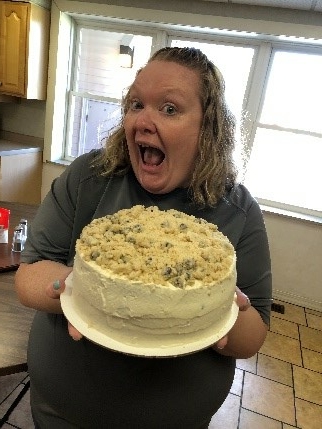 Gerald and Phyllis Frump are asking a favor. Since they were unable to have a service or funeral of any kind after Beth's passing, the Frumps would like you all to do something special. Beth did not like funerals at all, but she did love celebrating her birthday. Gerald and Phyllis would like all of you who may want to find a little closure, to celebrate Beth's life sometime during her birthday month of June. The Frumps send their love to all of you out there and thank you for your prayers and support over the last year.

On another note, Shults-Lewis will be naming their Hospitality House the "Beth Frump Hospitality House". We feel that is appropriate since Beth's hospitality for anyone who came to our campus was nothing less than amazing. We will be holding a short dedication during Annual Day Saturday, September 18. The Frumps ask that you come join us for the ceremony. We have missed you all and would love to see you there.
Many thanks and blessings from the Frump Family and Shults-Lewis!
---
JOB OPPORTUNITIES FOR FAITHFUL MEMBERS OF THE CHURCHES OF CHRIST
-School Secretary -Administrative Assistant -School Principal

-Director of Operations -Teacher -Social Services Staff

-Counselor/Therapist -Houseparents
---
/wp-content/uploads/shults-lewish-300x63.png
0
0
Kiana Baldwin
/wp-content/uploads/shults-lewish-300x63.png
Kiana Baldwin
2021-05-10 19:02:08
2021-05-10 19:02:10
May Campus Update