All in a day's work?!?!?! In April, several of the administration team were able to attend the CCFSA (Christian Child & Family Services Association) Conference in Searcy, Arkansas. What an awesome opportunity to learn more about child care and get the proverbial "shot in the arm" of renewal from fellowshipping with other Christian agencies. It is also an opportunity to spend time with former employees who have moved to other agencies. And I will admit that there was a lot of fun and laughter throughout the days away.
But as usual, it was wonderful to get back home to the kids. As you have already seen in the Telegram, we held our annual Spelling Bee. As someone who constantly relies on spell check and my wonderful proofreading mom, I sit in awe as our kids spelled words such as "babushka" and "superfluous". It took over an hour and pulling out an extra list of words to finally crown Hannah the winner!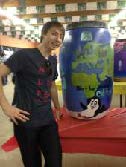 The kids participated in a community Earth Day activity. The community had rain barrels that schools could buy and paint. Mrs. Chowning, our English teacher, worked with the kids to sand, design, and paint the rain barrel. I hope you come to Annual Day on Saturday, September 19th to see it and bid on it in our auction!
You should've received your information regarding our Day of Prayer and Giving for Shults-Lewis on May 31st. I am really counting on you to promote this in all the congregations. If you need more information, please let me know.
It is amazing to watch the changes in the lives of children and their families. Thank you for being a part of this ministry!
/wp-content/uploads/shults-lewish-300x63.png
0
0
Beth Frump
/wp-content/uploads/shults-lewish-300x63.png
Beth Frump
2015-05-06 20:29:57
2015-05-06 20:31:06
May Campus Update