November-Promoting Social Learning
October-Promoting Social Responsibility
The students and staff took a field trip to the Recycling Center to learn ways to help our environment and being socially responsible.  The students also took a field trip to 1st Source Bank where they were taught about banking and responsibility.
September-Promoting Open Communication
Students and staff participated in group games which promoted Open Communication
August-Promoting Democracy
A historical display was placed in the school allowing students and staff to learn more about democracy.
July-Promoting Growth
&

Change
On July 17th, we held our Annual  KICK-OFF.   We will celebrated Shults-Lewis and the changes that have happened over the years for this agency.
June-Promoting Emotional Intelligence
At the beginning of the month, everyone was given a picture that on each day a firefly could be colored in to represent how they were feeling on that day.
We also enjoyed a "Charlie Brown" dinner where we "ordered" our lunch based on a menu of the adult speak "wah, wah" off of Charlie Brown.  Each course, you were surprised to see exactly what you had ordered.  Perhaps, applesauce with no utensils or a napkin, spoon, and fork with no food.  After each course, we discussed our emotions based on our meal.
Jeremiah, the amazing comfort dog, came to visit as well.  The kids and staff learned more about Jeremiah and how he helps people!
May-Promoting Non-Violence
In group, the kids discussed ways to promote non-violence and hold each other accountable while dealing with crisis situations.
April-Promoting an Empowered Future
As we want to keep our kids safe so they can have an empowered future, we had a guest speaker teach about the dangers of human trafficking.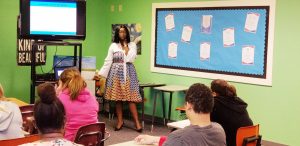 March-Paying Attention to Loss
We faced a LOSS as an agency in March as Jim & Carren Powell resigned from Shults-Lewis.  As a group, we used SELF to process that loss.
When missing Texas, Bob Brown enjoys some Tex-Mex food.  Thus, being the Core Team member in charge of this month's theme, he organized a FIESTA lunch.
February-Promoting Emotional Management
For Emotional Management, the school was decorated in various emojis.  In the school lobby was a posterboard where everyone was encouraged to answer the question, "How are you feeling?"
We hosted a Valentine's Day Progressive Dinner and Jim Powell talked about LOVE.
We kicked off Safety Month with a lunch of Firehouse Subs for all staff & kids.
During group times, we had several different guest speakers:
Friday, January 5th, PATH (positive approach to teen health) was here for SOCIAL Safety
Wednesday, January 10th, Lt Chavez talked about bullying & cyberbullying for MORAL safety
Thursday, January 18th, REMC gave a demonstration about electrical safety for PHYSICAL safety
Monday, January 22nd Kate Haines, former housemom & physical therapist, taught us about de-stressing through Yoga/Reflexology for EMOTIONAL safety.